The Cheshunt Property Market Update – February 2022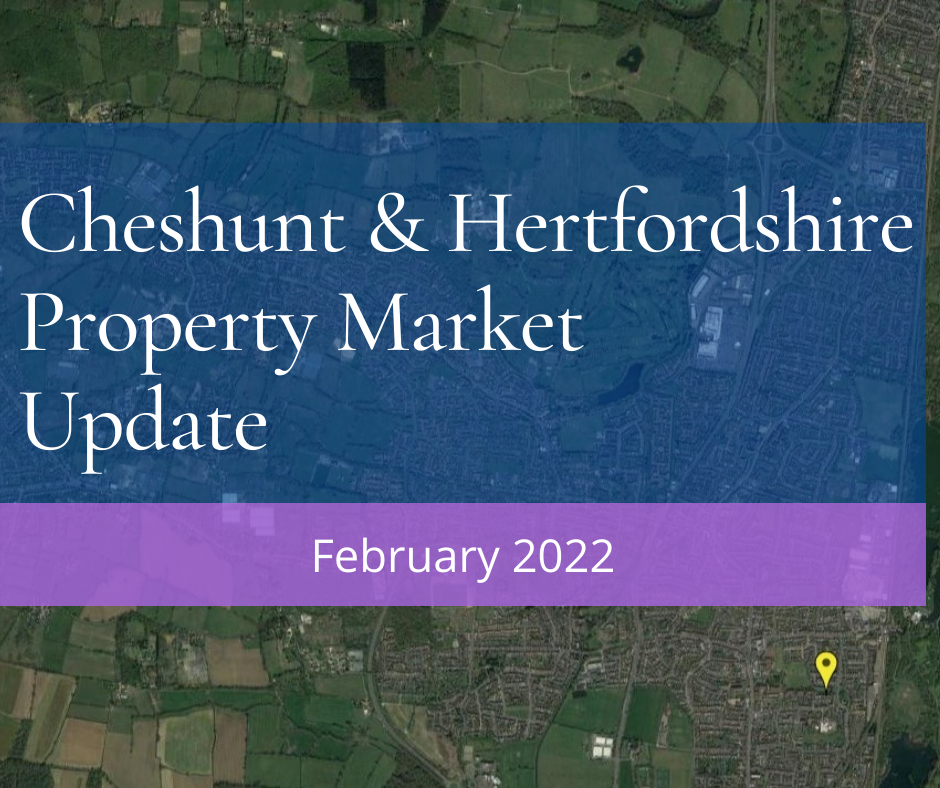 Welcome to the first housing market report for 2022. It's been an extremely busy start to the New Year, busier than many people expected after a seasonal slow down in December. When we re-opened after the New Year, it has felt like those house buyers have been back out looking in full force.
Many buyers are now starting to get frustrated - it is not unusual to hear that over 12-18 viewings have been booked on a home in Cheshunt and surrounding areas and that they are all proceedable buyers. We have had buyers upset that they have missed out and other buyers saying they are getting desperate.
However, the UK housing market is starting to show early signs of stabilizing. Rightmove reported that in the last week of January, new listings to their website were up by 8%.
We are now seeing more people getting their homes valued, ready for a Spring move. Back in our agency, valuations booked in January were up by 65%. What is really great news is that we already have 14 new properties lined up ready to hit the market in February. Simply put, we expect there will be more properties to choose from soon!
Property Prices
The average price of a home in Cheshunt now stands at £409,590.
This is an increase of £40,600 In the last 12 months
The average property price has increased by 11.0% over the year
The biggest increase over the past 12 months has been in Detached houses with 18%
Semi-Detached have shown an increase of 13%
Terraced houses have seen price increases of 10% on average.
Buyer demand
With a new year, comes a new desire to get moved. It's not unusual for people to think about moving as part of their new year's resolution. Buyer demand has doubled, with the strongest demand is for 3 Bedroom Semi-detached and Terrace houses. Much of this is due to the fact that the number of properties available for sale had dropped by 44% from this time last year which is fueling the market.
Jan 2021 Jan 2022 Change
Detached 43 28 -35%
Semi 116 47 -59%
Terraced 72 19 -74%
Flat 179 126 -30%
Unknown 27 23 -
Total 437 243 -44%
Struggling Properties
As we head into February there are just 259 homes for sale in Cheshunt, however, did you know that 135 of these homes have been for sale for 12 weeks and longer. The majority of them are listed with the same few estate agents. Is your home one of them?
This month the majority of our homes have sold quickly.
Many sold for the full asking price with several for over asking price such as:
Thompsons Close Goffs Oak EN7
A 5 Bedroom Detached Home in Goffs Oak. Sold For the Full Asking Price within 3 Days on the Market with 12 disappointed applicants.
Albury Grove Road Cheshunt,EN8 8NS
A Two Bedroom Victorian Terrace Sold Over The asking Price with 5 offers
As you can see, buyers are still looking and actively buying!
We still have over 1000 active buyers looking to buy locally. We need to help them find somewhere. Do you have a home to sell?
Thank you for reading
---
Author: Tony